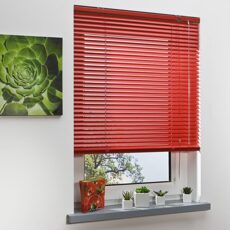 Horizontal blinds are a "classic" sun protection system that is most popular among consumers. All because they are practical, affordable, easy to care for and durable. They reliably protect from hot sunlight and overly curious looks.
According to the functional features of sun protection, horizontal blinds are divided into two types.
Horizontal aluminum blinds G-FORM is a traditional sun protection system that can cover small and medium-sized window openings up to 250 cm wide. it is Attached to the window frame, leaving free space around, and to the wall, allowing you to cover the entire opening. A wide range of colors and different textures of lamellas give wide opportunities to use this type of products.
INTEGRA G-FORM horizontal aluminum blinds are blinds that are easily and compactly installed on the sash or frame of a plastic window up to 154 cm wide, as close to the glass as possible. This feature allows the system to look as integrated as possible on each leaf, forming a single whole. When airing on a swing-out window, the structure will not SAG due to the guide rails, and aluminum slats form smooth edges without shifting. The model is managed by a single chain.
Wooden blinds in Kursk
are an ageless classic. They unobtrusively emphasize the style, giving the surrounding environment a special refinement and even luxury. These blinds are made of American Linden and bamboo-an environmentally friendly and hypoallergenic material. That is why they can be installed in the children's room.
Wooden and bamboo blinds are perfectly combined with any furniture and curtains. Therefore, you can combine and play with the texture of the tree, while getting various interesting options.
Buy horizontal blinds in Kursk of excellent quality and at a low price in the company ROLTECH.
You can leave a request for free departure of a specialist by phone: 8-930-763-65-26
Our works.